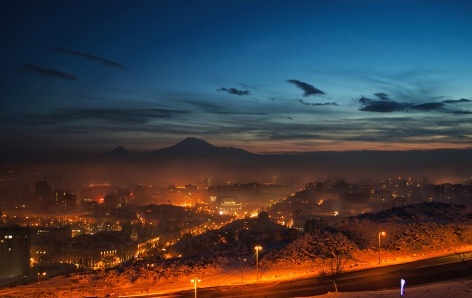 19 Říj

home

I passed the way back from a year of volunteering abroad, over 7 mountains and 7 seas, where my country was!

I couldn't keep me patient during the flight, looking forward to see my friends. I was watching the world and countries passing beneath me and I realized how big value it is to have your own place in this huge world, what does it mean to have your own home on the Earth.

When the plane eventually touch the ground my heart started to bit faster. Because from that moment everything was kind of all right:)) I felt "on my own plate".

Then I slightly saw Ararat mountain and night Yerevan down the mountain side, this little spot of lights, this round shape of the Sun. My oldest place, which is so young… I was back where I was from!

The first walk in Yerevan, night Yerevan, which I saw 1000s of times, was so calm and relaxing, so close and native. The weather was so mild, the mood was so high! No depression that I expected. The girls were so beautiful and attractive! I realized that I missed everyone!:) Was so strange to hear everyone speaking Armenian (on the 5th day it still was strange).

I realized I became more optimistic and started to see the brightest sides of things. Bad traffic became a good way of extreme and filling with adrenaline, bad behavior of some people became a challenge for my patience and politeness, and Armenian beer… it was not actually sooo bad:)

Changing your regular life again, switching into another rhythm of life, going into different society can make everyone depressed, but that's easy to overcome the stress, when you realize that it's natural and doesn't matter where you come from or where you go to. There's no need to compare your places of leaving, because it has no sense! Just to estimate your situation correctly! It's easy to overcome any wishes to be back, when you really understand why you want that, it's easy to overcome, when you truly recognize why you where there and why you are back. It's easy to adapt, when your feelings are not that empty…

I noticed I became more practical and easy-going. Easy-going is that word!!! I throw away half of my house stuff and furniture.)) Now I have MORE air to breath. Now I need LESS stuff to leave!
We spent 3 days in mountainous Goris, 250 km far from the capital, on the after-EVS meeting of Armenian ex-volunteers. The meeting was held to promote and encourage volunteering among the youth in this region and to rehabilitate ex-volunteers from depressions and disappointments they can have after returning from the volunteering service. Happy and very useful 3 days.
Sharing our thoughts, feelings, excitement and problems with the people who understand everything you are talking about! New friends in Armenia even after finishing the project. And a big party of 20 people in my apartment few days later! So cute people!))) 
I can't say I am totally back from Czech Republic after these 2 weeks, cause I can never be totally back! And it's good!
I can't say I won't miss, I will and it's also good! Because I'll be back.
And good is that I'm satisfied myself, ready for living and working here – taking everything and everyone how it is and how they are.
But still it is so hard to make these sad people smile…
Ill be trying!
🙂